In the highly-competitive Indian healthcare segment, attracting new patients to your clinic while retaining your existing patient base is key to achieving long-run success. Happy patients return and bring new referrals, so you need to focus on improving your overall patient experience to grow your practice and improve patient flow. Patient referrals are just one way of increasing patient flow to your hospitals. You can consider implementing different hospital marketing ideas to boost your overall patient acquisition and retention.
Here are some effective ways in which you can attract patients to your clinic and increase patient footfall:
<a href="#START_A_HEALTH_BLOG">Start a Health Blog</a>
1. Establish and Expand Your Digital Presence
Even if you run a patient referral program, most new patients will prefer to check your healthcare services online before making a decision. They will also give weightage to the online reviews about your practice to gain detailed insights. With stellar patient reviews and a robust online presence, you can easily improve patient flow.
Make sure that your website is SEO-optimized with an appealing, easy-to-use, and mobile-responsive interface and provides relevant information about your services. Leverage positive online reviews while immediately addressing negative ones to manage your online reputation tactfully.
2. Understand Your Patient Needs
As a healthcare practitioner, you should constantly identify your shortfalls when it comes to fulfilling your patients' needs. This will help you address potential issues before they affect your patient experience.
You can conduct patient surveys to understand what your patients like about your services and what needs to be improved. Engage with them on topics like treatment procedures, staff behavior, communication, diagnosis, and hospitality, either in-person or via your social media accounts. Regularly monitor online reviews on different review sites to know more about your patient experience and what can be improved in the future.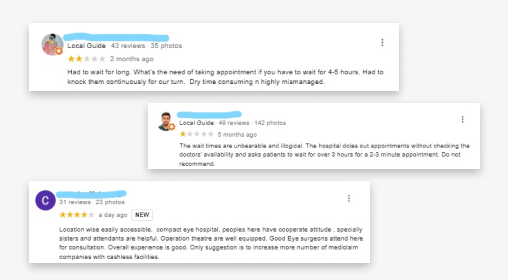 3. Start a Health Blog
Posting regular content on your website based on the latest health-related questions asked by patients will boost your search engine rankings. It will establish your authority as a thought leader while keeping your patients informed about the latest developments in healthcare.
You can share relevant health and wellness tips and other interactive, interesting updates about your practice. You can also promote your blogs on other social media platforms to attract patients to your clinic.
4. Nurture a strong relationship with your current patients
Building a strong, trusting relationship with your current patients is one of the easiest and most cost-effective ways of getting new referrals. By being actively invested in your patient's well-being through constant follow-ups and frequent communication, you can convey your genuine interest in their health.
You can reverse the appointment scheduling process by checking on your clients and their availability for the appointment, allowing them to reschedule with prior notice. Sending automated reminders via mail or text will help keep your patients on track and reduce last-minute cancellations and no-shows.
5. Understand Patient Sentiment
Every interaction that a patient has with your hospital will trigger a reaction, be it positive or negative. These reactions will dictate the overall patient sentiment and their association with your practice. Therefore, accurately understanding patient sentiment and addressing concerns on time can help you improve your practice and attract patients to your clinic.
You can use a sentiment analysis tool to record patient feedback and understand how they feel about different aspects of your practice. This way, you won't have to read through thousands of comments manually. So whether it be friendly staff behavior or poor front desk experience, you can identify your strengths and weaknesses and develop actionable steps to improve patient flow to your hospitals.
6. Identify your patients' demographics
Knowing your patients is key to providing personalized, quality health care. By knowing their demographics (age, gender, location, medical history, insurance provider, etc.), you can tailor your healthcare services to suit their unique needs.
Also, depending on your specialty, you can create and launch exclusive hospital marketing campaigns to reach out to your target audience online and attract more patients.
7.
Establish relation with referring practice
By establishing a mutually beneficial, positive referral relationship with other healthcare practitioners in your community, you can improve your patient flow. Providing effective and timely care to referred patients can help you retain them for a long time.
So, make sure to cut down on their waiting time by fixing quick appointments. Directly communicate with the office of the referring practice for timely sharing of patient history and other relevant clinical information. Also, send over the treatment and other medical notes to the referring practice soon after the patient has received treatment.
8. Invest in local SEO
Optimizing your healthcare site for local SEO can make it rank higher in local searches for 'near me' and other related keywords that patients use while searching for doctors or hospitals in their vicinity. This way, you can improve your practice's local visibility and be found by the right patients at the right time!
Hiring a digital marketing agency that specializes in local SEO services will take the burden off your shoulders, allowing you to give undivided attention to your patients.
9. Try to be flexible
Your office timings and appointment schedule should suit your patients. Some patients prefer an early morning visit, while others may be comfortable with evening appointments.
By using an appointment scheduler tool, you can let your patients select their preferred hour of visit. This way, you can keep track of your patients, organize multiple shifts, and find last-minute replacements.
10.
Always be responsive
Both current and potential patients expect you to be readily available in their time of need. Therefore, you need to keep up with changing patient demands to attract new patients to your clinic.
Make sure that your hospital is adequately staffed to address patient concerns as and when they arise. You can even consider recruiting extra staff or adding new services to your practice to provide timely and effective patient care.
11. Upgrade your practice with the latest technologies
As a healthcare practitioner, you cannot ignore the importance of being digitally updated to streamline your processes and ensure a seamless patient experience. From telemedicine to wearable tech, integrating state-of-art-technology into your practice can help you gain an edge over your competitors through greater security, more effective treatment, and enhanced patient engagement.
You can use an electronic check-in system to allow new patients to your clinic. As they wait for their turn, offer them complimentary Wi-Fi or any live streaming platforms to keep them engaged. If possible, make arrangements for virtual telephonic and face time visits after office hours.
12.
Automate everything
Implementing automation in healthcare can help lower admin costs, improve the quality of care and ensure accurate decision-making.
You may consider automating:
● appointment scheduling and reminders for your patients
● billing process to make it faster and error-free
● collection and analysis of patient data
● patient follow-ups and other forms of communication
13.
Associate with other healthcare professionals
Collaborating with doctors, therapists, and other medical professionals will not only improve the quality of your patient care but also establish you as a respected, trustworthy figure in the medical community.
Such inter-professional collaboration will help you gain new referrals without breaking the code of medical ethics.
14.
Keep an eye on your online presence
Consistent monitoring of patient reviews and timely resolution of patient concerns is key to maintaining a powerful online presence. You need to watch out for any negative reviews that might affect your reputation and address the reason behind such feedback.
Never filter your reviews; instead, address both negative and positive feedback to show that you genuinely care for your patients.
15.

Be a community leader
Being actively involved in your local community can help you connect more deeply with existing patients and attract new ones. You can host seminars or outreach programs to provide health-related information to the public. You can also use the opportunity to inform them about your services and how you can meet their healthcare needs.
Other ways in which you can engage with your community are:
Host a fundraising event or volunteer for a local non-profit organization
Sponsor local students or athletes through scholarships
Contribute to editorials by providing your professional opinion on the latest health concerns, treatment options, etc.
Increase Your Patient Footfall with Healthcare DMS!
Our healthcare digital marketing professionals are highly-skilled at designing and implementing tailored strategies to boost patient acquisition and improve your patient flow. Whether you are a doctor, a surgeon, or a chiropractor, our cutting-edge marketing solutions will boost your online visibility and enhance your online reputation to attract new patients to your practice.
Contact us today to learn more!
Healthcare DMS has been selected among the Best Branding Companies by Designrush!