With 80,136 Ayushman Bharat-Health and Wellness Centre and 638 e-Hospitals established as part of the 'Digital India' initiative, the Indian healthcare landscape is rapidly changing. According to research, since the COVID-19 pandemic, Indian healthcare teleconsultation has risen by 500%, and 80% of patients are first-time users of the service. Also, the Indian healthcare infrastructure is expected to reach $349.1 billion by FY22, and the e-health market is expected to cross $10.6 billion by 2025.
This changing landscape of the healthcare industry has led to increased competition among hospitals & healthcare practices. Therefore, you must have effective marketing strategies in place for your hospitals to boost your overall patient acquisition and retention.
In this blog, you will learn important hospital marketing ideas that can help you establish you in this competitive industry. But, first.....!
What Is Hospital Marketing and Why Is It Important in Today's Healthcare Industry?
Hospital marketing is the process of developing and implementing strategies to attract new patients and engage existing ones through open interactions, improved patient experience, and high-quality patient care. Digital marketing strategies for hospitals combines multi-channel, highly segmented, and targeted online tactics & ideas to attract new prospects and expand the patient base.
Hospital marketing is integral to achieving sustainable growth in the present-day Indian healthcare industry, where patients are actively invested in their health and well-being. When there are multiple hospitals providing similar services in a particular area, digitally marketing your hospital can help you stand out among competitors.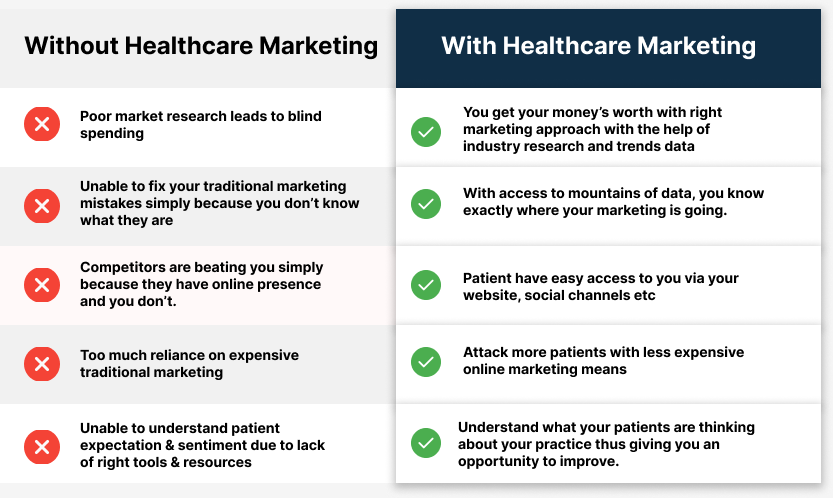 Having a well-planned hospital marketing strategy in place has the following benefits:
Increases your patient base by attracting and retaining patients
Helps improve your online reputation and patient engagement
Increases your local reach, resulting in new patient referrals, relevant market searches, and increased lead generation
Connects you with prospects across multiple online channels
Read Similar Article Here: Benefits of Hospital Marketing That You Cannot Ignore! (With Case Study)
Include These 13 Effective Hospital Marketing Ideas In Your To Do List Today!
1. Define Your Hospital Goals and Highlight it's Unique Value Proposition Before Starting Marketing
The first step towards a successful hospital marketing campaign is to define the goals and objectives of your practice. These can include expected revenue, targeted number of patients, and other long-term objectives.
Having a well-defined goal in place will give you a clear idea of what is to be achieved, the resources required, and the steps to achieve it.
Make sure that your goals highlight all that's unique about your practice so that you can stand out among other hospitals and clinics.
2. Work Towards to Build and Maintain a Consistent Brand Image for Your Hospital
Even if you think that your area of expertise is different from other healthcare practitioners, it's difficult for patients to trust a hospital or doctor they are unfamiliar with.
So, you have to differentiate your hospital and make it stand out. It's the only way to capture attention in this digital era. You need to identify one key factor that draws patients to your practice (It could be anything from your strength or your unique feature) and create all your marketing plans around that factor.
This way, you can build a consistent and recognizable brand and promote greater awareness among patients.
3. Provide a Seamless Digital Experience to Your Patients When They First Interact With Your Hospital
The best way you can do that is by having a well structured & SEO optimized website that follows all guidelines of Google. A patient centric healthcare website will save patients time & efforts, simplifying their search and selection process. Apart from your online efforts, you must also provide patients with a seamless digital experience across all your tools and applications so that they can share their details without hesitation. Here's how you can achieve this:
Improve patient-centric processes such as logistical support for at-home collection of specimens, technical support for wearable devices, virtual care for home-based patients, etc.
Use electronic health records (EHRs) and patient-reported outcomes to personalize treatment and support lifestyle change programs
Analyze your core processes and technology and implement changes where required to foster a culture of accountability to provide constant support to your patients
Maintain consistency in typefaces, colors, and other user interface components and customize UX so that all tools have identical layouts for consistent, intuitive interactions
4. Leverage Social Media to Engage with Your Patients
Using social media marketing strategies such as sharing photos, events, and more on online public platforms like Facebook, Twitter, or YouTube is a good strategy to build your brand and keep your patients updated.
Social media can help you spread awareness about diseases and treatments while engaging in a conversation with them on more personal level.
You can also opt for paid advertising on social media, making your healthcare services visible to the right audience, even if they are not connected to you.
5. Identify Ideal Marketing Channels For Your Hospital Services
There are several marketing channels that you can explore, including Healthcare SEO, paid search, social media, display advertisements, and more. With a limited budget to spend, you need to identify the most influential marketing channel for your practice before launching any campaign. This will depend on your location, the kind of services you provide, demographics (target patients), etc. One way to find out all this data in a most simplest way is to recruit a healthcare digital marketing agency that can help you analyze your current as well as previous campaigns to determine the strategy and budget required to reach new patients.
Want to acquire patients locally? This blog on Hospital SEO will give you insights that will help you establish presence on Google and attract attention of your prospective patients.
SEO For Hospitals: Guide to Acquiring New Patients Locally
6. Encourage Patients to Provide Online Reviews For Your Hospital
Patients often only post reviews when motivated to do so or when they had an above-average or completely unsatisfactory experience. If you don't seek feedback on your healthcare services, you're missing the opportunity to highlight positive reviews from patients who were pleased with their appointment.
Make it easy for your patients to review your practice by either mailing them review requests that direct them to the review page or providing review links on your social media profile. Respect your patients' time by keeping the review process short and simple (ideally not more than 2-3 minutes).
7. Work on Your Patients' Feedback
Next up is to follow up on any negative patient review that you may recieve for your hospital and show that you are working on the issue.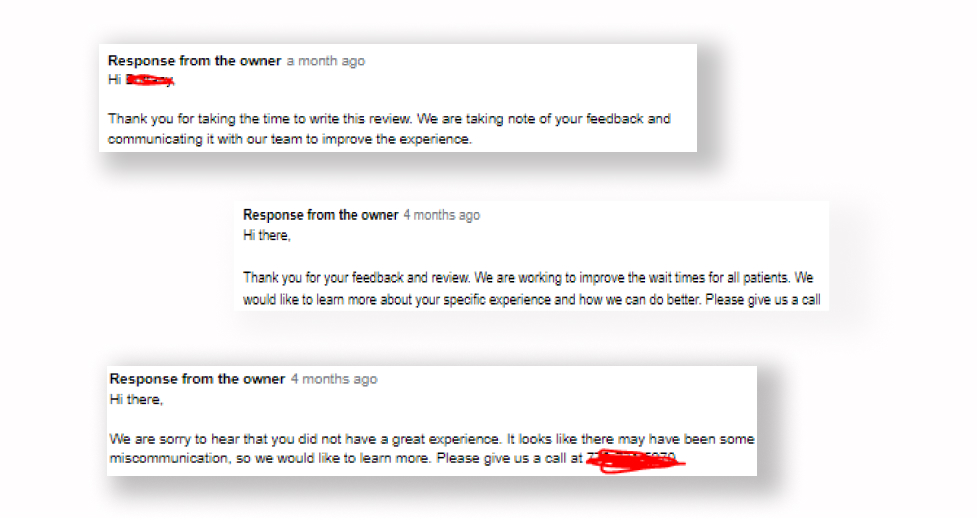 Unhappy patients may change their review if they receive an appropriate follow-up on time. Based on their feedback, you should also improve your procedures and equipment to ensure the best possible patient experience in the future.
8. Follow up on Your Current Patients
After an appointment or treatment, check in with your patients to see how they're doing. Inquire about their relatives, or send them personalized birthday or anniversary wishes, to show how much you care for them. You can also send automated reminders ( via emails, texts, or phone calls) to keep your patients on track and ensure seamless patient engagement.

9. Establish Your Hospital's Authority in Your Area of Specialization
Potential patients will remember your practice if you establish yourself as an authority figure in your medical specialty. Stay updated with your specific niche through online groups and forums on LinkedIn or other professional networks. If you have something to discuss, reach out to the proper media outlet to share your medical expertise and promote your healthcare brand. You can also sign up on sites like HARO (Help a Reporter Out) to get press coverage for your practice.
10. Track Marketing Efforts of Your Hospital
Always monitor how well your hospital marketing plan is paying off in terms of ROI. Your budget should be adjusted each year based on a careful examination of your previous metrics (performance analytics) and what you want to achieve this year. A few ways to track the effectiveness of your marketing strategy include:
Check how your rank on search engines with Google Analytics

Use CRM (customer relationship management system) to track how patients engage with your existing campaigns

Monitor your online ads by setting up a Google Ads account.
Hiring digital marketing professionals who have expertise in healthcare is another great way to boost your practice's online presence and reach.
11. Train Your Team to Provide a Smooth Patient Experience At Your Hospital
Happy patients amount to continued services and more referrals. Therefore you need to ensure that nothing prevents you from providing best-in-class patient experience. Your front-desk staff is the first to interact with your patients. They represent your hospital, and the way they address the patients' concerns can form a strong impression about your practice.
It's important to train your team to provide a seamless patient experience, right from their first appointment to follow-up visits and treatment. Your staff should also be aware of specific details besides the services you provide, such as equipment used for procedures, pricing, etc
12. Post Pictures of Your Hospital Staff for a Personal Touch
Posting real-life images of your team and office on your official website or social media account is a great way to display your practices' culture and gain your patients' trust. Adding your team's photos to your website will give it a more personalized look, thus acting as an extension of your physical hospital.
13. Stay Connected to Past Patients
While your former patients may not need you, their friends or relatives may require medical attention. Keeping in touch with past patients can help you get new referrals and grow your patient base. You can stay connected with them by sharing regular health-related updates through newsletters or social media posts. You can also send them personalized wishes on their special days, making them feel valued and cared for.
Grow Your Hospital & Acquire More Patients With Healthcare DMS!
As an award winning hospital marketing agency, our team of experts Healthcare DMS, is well-versed in providing custom-tailored hospital marketing strategies that will take your practice to new heights. Our proprietary tools and convenient processes will boost your online presence, promote a stellar brand reputation and help your practice acquire and retain more patients, building up a loyal patient base. Contact us today to get started on your personalized hospital marketing plan!
Healthcare DMS has been selected among the Top Healthcare Digital Marketing Agencies by Designrush!