Imagine a blank canvas with wide-open space that could be filled in any which way you want. You can draw on it, paint it or leave it clean- but once an impression is made, it is unerasable. This is what your prospective patient's mind looks like now.
Without a single prior interaction, they are absolutely unaware of what to expect from your practice, and your online reputation is the magic brush that you hold- you can paint your portrait or draw a sketch, but the final image is irreversible.
There are a billion medical websites online, all making similar claims and promises. A patient seeking a healthcare practitioner knows no better than what meets their eyes. But, a well defined and strategic implementation of Hospital marketing helps you stand out from a sea of competitors out their who are providing similar services. It will not only establish you as an authority figure online but also attract and engage new prospects, thus growing your patient base.
The importance of hospital marketing can be summarized with the above example. But, let's take look at them in detail.
Listed Below Are 8 Undeniable Benefits of Hospital Marketing That Outlines How Important Marketing For Hospital Is!
1. Helps You Acquire New Patients
This is the end goal of every hospital, acquiring new patients! Right? Hospital marketing helps you get new patients by enhancing your brand awareness and visibility of your hospital (more on this below) in the online sphere and putting you right in front of your target audience.
You don't have to take our word for it. We have the data to back our theory.
The importance of hospital marketing can be visible from this screenshot which is taken from the analytics dashboard of one of our US based client. You can clearly see that overall appointment form fills has increased by 84% in the span of just 1 year.
Note: We've started marketing for this client in month of June 2020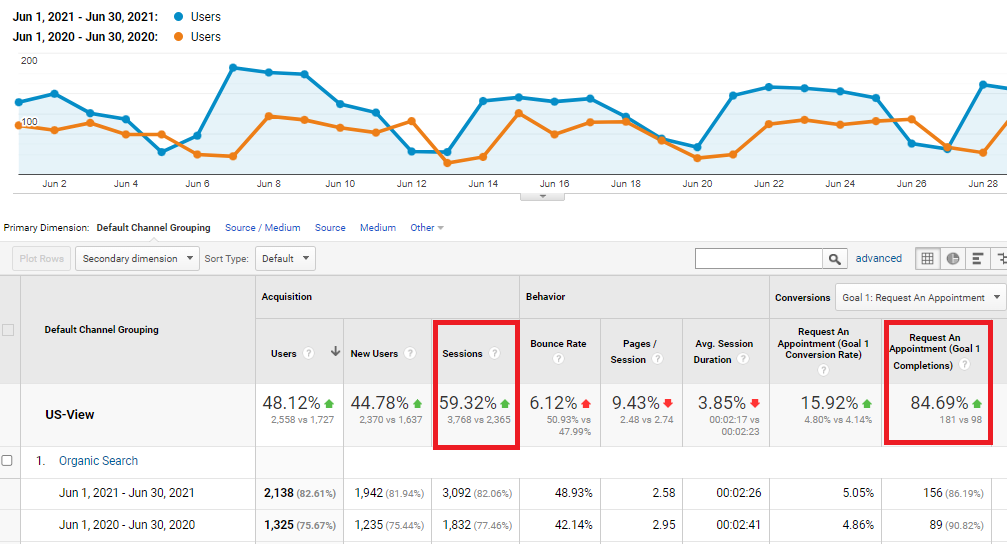 2. Promotes Brand Awareness
Hospital marketing has opened up new channels for connecting with patients, educating the general public, and attracting new prospects. You can showcase your services and expertise to potential patients through social media marketing, search-engine-friendly medical websites, targeted content marketing, and more!
2. Facilitates Brand Visibility in Search Engine
Hospital marketing can be very cost-effective, allowing you to engage with the right audience at the right time and place for a fraction of the price of traditional advertising. For instance, you can now make your practice far more visible by optimizing your website for search engines. By concentrating on organic SEO strategies, you can rank for relevant healthcare-related search terms, driving more visitors to your website.
3. Display Your Uniqueness
You can develop your own set of hospital marketing strategies with the help of a specialized healthcare digital marketing agency to establish the uniqueness of your healthcare brand. By defining your hospital goals and highlighting your unique value propositions (UVPs) throughout your marketing campaign, you will have a chance to stand out from a sea of competitors providing similar services online.
4. Helps In Managing Online Reputation of Your Hospital
Hospital marketing involves monitoring online ratings and reviews left by patients on different review sites like Google, Yelp, or Healthgrades, thus helping you improve your services based on patient feedback. You can also use automated reputation management tools that notify you of unhappy patients and help you take prompt remedial actions.
5. Boost Patient Engagement
Thanks to cutting-edge technologies, you can communicate with both prospective and existing patients like never before. For instance, you can use two-way chatbots on your website to provide 24/7 patient support by answering questions, directing visitors to the right resources, and countering misinformation.
6. Improves Patient Experience
Present-day patients seek to be actively involved in their care journey, and hospital marketing facilitates convenient, reliable care at their fingertips. By using the right strategies, you can assure that your patients recieve top quality medical care by constantly providing the vast expanse of health-related information, easy-to-use payment portals, credible patient reviews, testimonials, etc., This instill greater confidence, raise patient satisfaction and enhance their overall experience.

7. Levarage Patient Loyalty For Higher Returns
Happy patients are more likely to stick around and bolster your revenue, with an individual healthcare consumer's lifetime value being $1.4 million. Hospital marketing helps you provide rich patient experience by various means, ensuring seamless engagement, and working around patient reviews, you can promote greater patient loyalty, earn more referrals and accelerate your returns.
8. Promotes Thought Leadership
Patients actively seek out healthcare practitioners with the knowledge and expertise to provide quality care. Hospital marketing helps you become an active, integral part of your patient's life. You can stay connected with them 24/7 and share your views, expertise, and updates regarding new treatment option or just home remedies through multiple channels. This way, anytime they need any health-related assistance, they know whom to look up to- yes, that's you!
So What Can You Do To Be Found When It Matters?
Embrace hospital marketing with your painted hands (pun intended)!
As a patient-centric hospital, you may already have a solid patient base ready to vouch for your services. But, by having a well-implemented hospital marketing strategies, you can enhance patient experience, leverage positive reviews, add new patients and grow your practice even more. We are not going to talk about those strategies and idea here as we have whole other article dedicated on hospital marketing ideas that you can read and try it out for yourself.
How to Know If Your Hospital Marketing Efforts Are Painting the Right Picture?
1. You Start Getting New Patients!
While it may not be your sole objective, getting new patients is one of the key indicators that your strategy is working the way you want. However, this shouldn't be a one-time event; instead, there should be a continuous inflow of patients to your practice to establish that your strategy is effective.
2. Your Hospital Brand Is Getting Noticed
When you suddenly started seeing increased requests for interviews, and invitations to podcasts, then these are all signs that your brand is attaining greater visibility among the right audience. If your press releases are receiving immediate responses, say in terms of more referrals or inquiries, your hospital marketing strategy is working.
3. Your Hospital Business Is Constantly Growing
This is a no-brainer as any successful hospital marketing campaign will attract new patients while retaining the existing ones. Whether through social media, organic searches, or patient referrals, consistent patient acquisition testifies to a favourable online presence and brand authority.
4. Positive Return on Investment
Cost per acquisition, patient engagement, and conversion rates are the key metrics you need to track while calculating your ROI. If your cost per acquisition is lower than the average patient expenses, you are on the right track. Meanwhile, higher patient engagement and conversion rates also indicate your hospital marketing strategy is effective.
5. Sudden Improvement On You Social Media Channels
Kudos if you see a sudden surge of activity on your social media pages, especially after announcing a special event, say a one-to-one video consultation or walk-in session without prior appointments! This implies that prospective and existing patients are actively involved with your practice and keenly follow every step you take.
6. Patient Surveys Have More Positive Outcomes
An easy-to-complete, short yet precise online survey is the best way to know what patients think about your practice. If you get more positive feedback through patient surveys, voila! Your healthcare practice is making a difference, and your efforts are receiving their due recognition!
How We Used Different Result-Driven Hospital Marketing Strategies to Improve the Brand Visibility of an Eye Care Hospital
Now, let's take a look at the importance of marketing for hospitals with the below case study.
When one of our clients, NETRALAYAM Eye Hospital first approached us, they were struggling to get new patients. They were falling behind their competitors, which really started to put dampers on their business.
So, we started with an in depth analysis of their hospital, and based on our analysis, we found that they literally had a non-existent online presence, with no Google Business Profile or social media accounts or even a website. So, we carefully crafted a customized marketing plan that focuses on building their brand, enhancing their online presence and attracting more patients. We helped them with:
Created a website for them from scratch, optimized it for search engines with SEO optimized orginal content, which helped it to rank for important conversion oriented keywords
For branding & authority, we primarily focused our efforts on producing quality and information blog content that patients were searching for.
As reputation matters the most for a healthcare business, we also worked on positive review acquisition, negative review protection, and patients experience analysis through our reputation management platform. It resulted in strong online reputation with lots of positive reviews to brag about on Google.
Soon, we started seeing the positive results from our strategic approach!
1. Organic Traffic Increased by

323.42%

2. Traffic from Blog Page Increased by

132.25%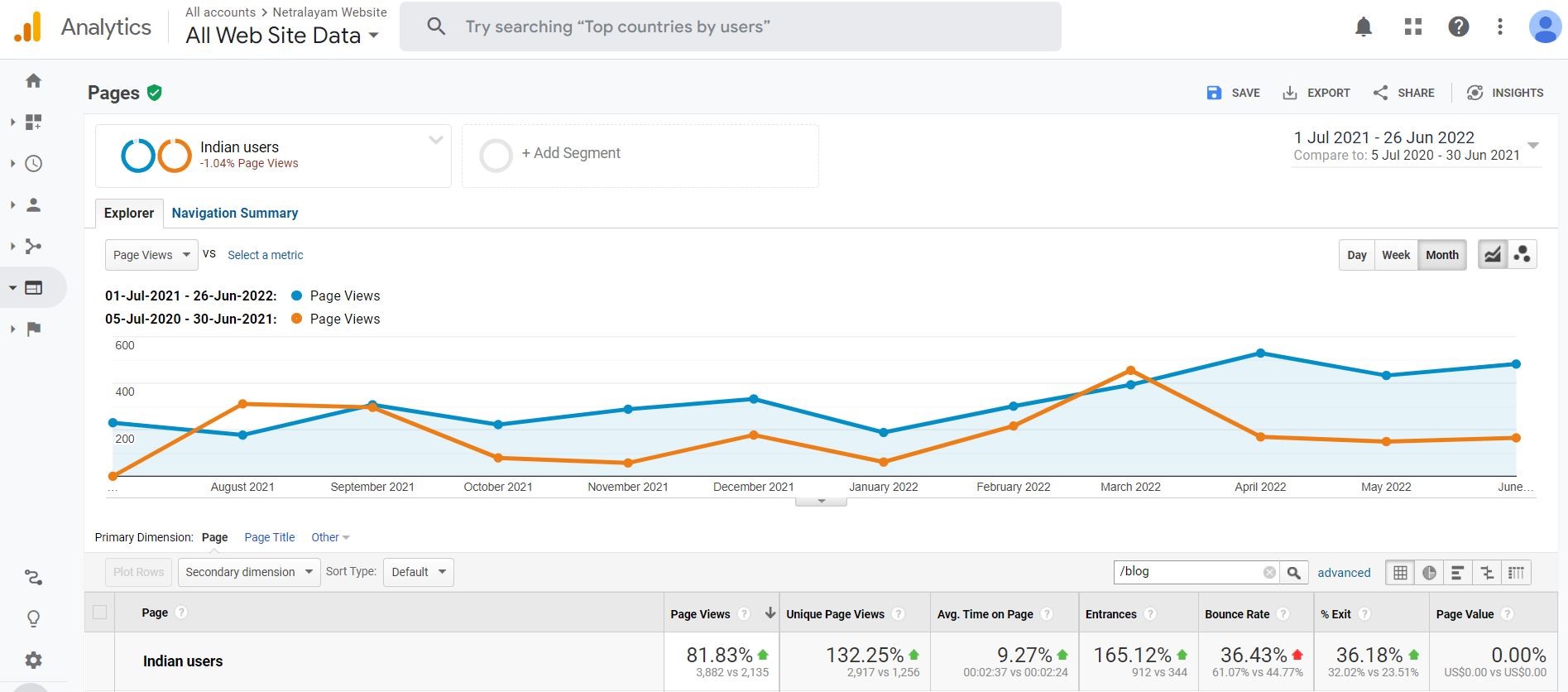 3. Call from The Website Increased by

404.50%

This results shows, if you have solid marketing plan for your hospital, you can start seeing results in short amount of time.
Be More Than Just a Name in the Crowd
The idea is not just to exist but to make a difference. There may be hundreds or even thousands of patients near you awaiting immediate medical attention. You know you have what it takes to meet their care needs, and yet your nearly non-existent web presence prevents you from being found when and where it matters.
Interestingly, a mere presence on Google will not suffice! Until your practice shows up on the very first page, preferably as the very first result, you may have a hard time attracting potential patients.
Need a Hand (or a Brush)? We Are Happy to Help!
Still not sure if your hospital marketing efforts are painting the right picture? Our team of healthcare digital marketing experts at Healthcare DMS will create and implement a custom-tailored marketing plan that's as unique as your healthcare brand. Contact us today to learn more.