Online business is the future- said all who witnessed the digital landscape explode like never before during the pandemic. Interestingly, the number of internet users in India rose from a mere 21% in 2017 to 61% in 2021! As of January 2022, there were 658.0 million internet users in India.
The Indian healthcare sector was a major beneficiary of this massive digital shift as more and more patients sought easy-to-access services at their fingertips. Mandatory lockdowns, social distancing, and other restrictions imposed by COVID-19 made it necessary to have a digital presence and be available virtually to meet patient demands.
These stats and info are just for your reference to give you an idea of what you are missing if you don't have an online presence which can't be possible without a website. I am not completely ruling out the fact that you can't build an online presence and attract patients without a website. As a matter of fact there are a lot of ways to create a stellar online brand image, but it will only take you so far. If you don't have a functional website, you are missing out on prospects, and your competition might be overtaking you without you knowing.
While there are a lot of ways to build an online presence, at its core, a website is always going to be key for your healthcare business growth.
Why Websites are Important for Your Healthcare Business Growth?
A custom-tailored, performance-driven website can work wonders for healthcare practice. From drawing in more traffic to generating referrals, there are countless ways in which a well-designed, mobile, and SEO-friendly website can take your healthcare business to new heights.
Check out our list of 7 ways in which a website can help your healthcare business attract and retain more patients and grow your practice in a changing healthcare landscape.
1. Website Can Improve the Marketability of Your Healthcare Business
You've probably heard the phrase: Modern problems require modern solutions. The modern problem is marketing, with one consistent factor being the "CHANGE." With the digitization of everything, marketing has moved into a new digital era. Gone are the days of billboards, pamphlets, and TV commercials. (You can still do those things for your healthcare business, but they don't guarantee the expected ROI.) The world has moved-
From radio to podcasts
From direct mail to email
From television to Youtube
From billboards to online banner ads
While this may all seem like great news for businesses of every type as they have much more efficient channels to work out with, at the same time, it can be frightening if you don't know how to take advantage of it.
Enter The Solution
A website can be an effective tool to market your business. Suppose this digital age is a massive ocean, and you want to reach your dream island (Your business goal). But how do you do it? Clearly, you need a boat. In this example, the boat is your website which can help you navigate the sea (Digital age). Now, it's up to you to ensure your boat reaches its destination. There is simply no other form of marketing as effective as a website. A website can help you put your healthcare business right in front of your patients who are searching for medical services. A doctor could start bringing new patients from online sources today if he launched his website yesterday.
This is the power of digital marketing which can't be realized if you don't have a website.
2. A Website Can Make Your Business Credible in Front of Your Patients
A well-designed, user-friendly medical website is a great way to tell your patients and prospects that you care for them. There are multiple ways in which you can use your website to boost your credibility and win the trust of both existing and prospective patients, such as
A) Offer high-value, relevant content through blogs, eBooks, and case studies that educate the readers and establish your authority in your area of expertise and will also enhance the reach of your website to wider demographic patients (More on this in point number 5)
B) Place authentic patient testimonials at strategic locations on your website where interested prospects can easily find them. Patient reviews and testimonials are a great way to paint a great picture of your healthcare practice, with at least 81% of patients relying on reviews before selecting a doctor.
C) Highlight your qualifications and professional partnerships, memberships, and other important details on the home page, about us page, and other prominent sections on your website.
3. A Website Can Make Your Healthcare Business Accessible 24/7
Another important role of a website is that it provides round-the-clock, virtual access to patients in need of medical assistance. Whether they are just skimming through your pages or seeking immediate care near their location, your medical website can act as the ultimate storehouse of all the required information and services.
So, how can you ensure that your website allows 24/7 accessibility to visitors?
Offer live chat/ live support solutions- engage with prospects in a real-time text-chat conversation to provide quick answers to their queries
Chatbots- if you can't keep up with patient communication 24/7, AI-driven automated chatbots can fill in the gap and answer simple requests (say, help schedule an appointment) while collecting patient data and passing it on to live support
Offer self-service options in the form of FAQs, webinars, and other knowledge-based solutions
4. A Website Can Give You an Unfair Advantage over Your Competitors
After the onset of COVID-19, the healthcare sector has become fiercely competitive, especially when it comes to the online market. More and more healthcare entities, be they independent professionals or hospitals, are entering the market to get an early advantage over their competitors and acquire more and more patients (since most of them are spending their time online).
This is where a website is important and comes into play. A smooth, user-friendly website with sound SEO means you could reach more patients who are searching for treatments online. On the other hand, if you haven't invested in a website, you might still reach your audience via social channels and Google business profiles, but it has its own limitations. You can't exchange information or engage in a live chat, and your healthcare business will be limited to only these 2 channels. Patients rarely use social media to search for doctors. More than 60% of users prefer Google to find doctors. We are not making up this number, I actually did a quick poll on LinkedIn, and the results are shared below.
Having a website lets your patients easily find you online, read up about your practice, and discover what you do in your free time. It is also true if you (as I mentioned earlier) have a website, you may be found on search engines, but only if you have listings in a directory (practo, sulekha, or OLX)
Importance of website: Search result with website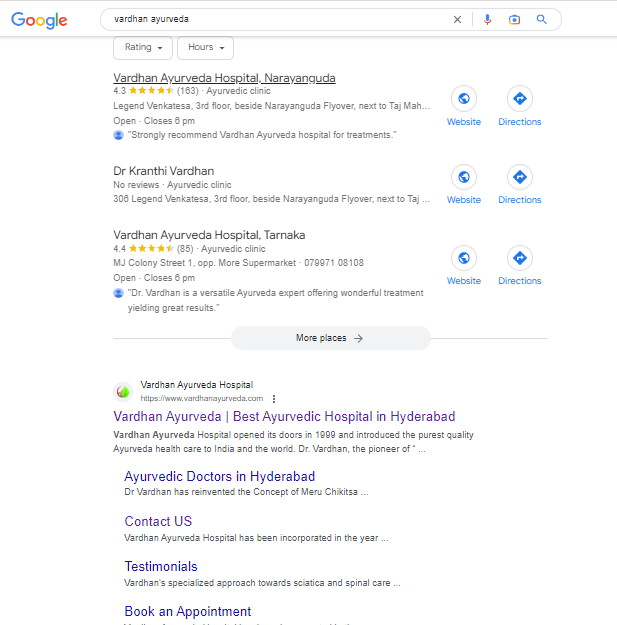 Importance of website: Search result without website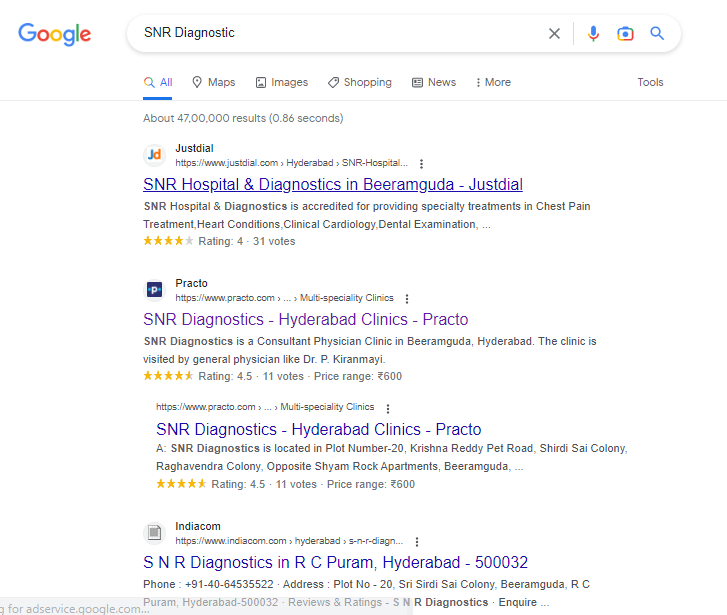 Also Read: Website Design Mistakes to Avoid For Healthcare Practice
5. A Website Can Take You from Local to Global
Yes! The importance of a website can be outlined by the fact that it can take your business from local to global. I mean not in a literal sense (however that is also possible). I am talking about enhancing the reach of your healthcare business to a wider demographic audience.
Here is the deal, suppose you run an eye care hospital based in Kolkata. Obviously, your goal would be to acquire patients not just from your city but from nearby cities or even states. Now let me ask you a question - Suppose you have a website that is SEO-optimized and marketing ready and is constantly ranking for major keywords related to your eye care niche. So, does this mean only patients from Kolkata can see your website?
The answer is quite tricky. If I talk about your service pages where we generally target location specific keywords like "eye care center in Kolkata" or "eye specialist in Kolkata", then yes your website will be visible on Google to users of Kolkata and some nearby areas only. This is just how Google works. It tends to show local businesses in the search result of the user searching for services in a particular location.
But the story is quite different where blogs are concerned. We digital marketers generally do not target location-specific keywords in blogs, which in turn enhances the reach of the blogs to a national level and, in some cases (if your content is too good), on an international level. That's why I suggest adding blogs, case studies, or ebooks to your website, which not only make your practice credible but can also enhance the reach of your website to a wider set of audience
6. A Website Can Significantly Improve the Patient Experience
From booking appointments online to staying updated with the latest developments in healthcare- a website can inform, educate and offer instant care to prospects and patients right when they need it! You can also make basic paperwork available on your website and reduce the wait time, a major deal breaker for at least 55% of the Indian population.
What's more, with an AI-powered website, you can easily automate many day-to-day activities and consequently enhance your patient's care journey, such as:
Sending out appointment reminders
Collecting patient feedback, and analyzing the same to identify areas of improvement
Proactively reaching out to unhappy patients to offer quick solutions so they don't harm your online brand image
Interested in learning more tips for improving patient experience? Read what our founder, Ajay Prasad has to say about increasing patient satisfaction through a better care experience.
7. A Website Can Help You Keep Track of Your User and Potential Base
Now that you know the importance of a website (how it can build your credibility, enhance your reach and grow your ROI), let's delve into website tracking.
In layman's terms, website tracking is when a website collects information about website visitors who came through any online channel. It can be done by adding a tiny piece of code in your website source, which then records the user behavior and interaction and sends it to the analytics dashboard for us to see and analyze. You'll be amazed to see how much data a tiny code can collect. What's more amazing is that this data can help you not only to understand how many users are interacting with your website but also when they left your website, how many pages they went through, and how much time they spent on your website. This collection of data can help you understand user behavior and make adjustments to your content or website to further improve the experience of your online visitors.
Here is a quick screenshot of the Google analytics dashboard that we use in our agency.

How Much Does a Professional Website Cost in India?
Now that we have established that a website is a must for all businesses, you must be wondering how much it will cost to build a website for your healthcare practice.
There are several platforms out there that are providing no-code website builders with which anyone can build their websites. While such platforms are useful to some extent, I would advise against using them.
Instead, leave it to the professionals. The benefits of choosing a medical website development agency are countless. They have all the backups and expertise to make your website functional and ensure that it stays that way even in the face of cyber attacks.
Now comes another critical question- how much does it cost to get a website for your healthcare business? The answer - It depends
Most agencies provide custom-built designs depending on your requirements like:
How many pages do you need on your website?
Will you be opting for marketing services?
Is the design complicated or simple?
But to give you the best picture, a website can cost around 40,000 to 70,000, and this price can fluctuate based on your needs.
Final Thoughts: Take It from the Experts!
It's pretty much impossible to overstate the importance of having a healthcare website in this day and age. A website is a cost-effective and time-efficient way to reach a wider audience and grow your practice. In addition to the benefits of connecting with clients online, a website can also help you:
Generate leads
Build your brand
Generate repeat business
Increase your online presence
Attract new clients
But that's not all. A healthcare website can also help you with your marketing and SEO efforts. By optimizing your healthcare website for search engines, you can ensure that your website appears higher in search engine results. This can help to drive traffic to your site, increase your online visibility, and grow your practice.
The bottom line is that a well-designed healthcare website can be a powerful marketing tool that can help you grow your practice. If you don't have a healthcare website, now is the time to get one.
Ready to build a patient-centric medical website that your prospects and patients would love? Contact our experts at Healthcare DMS today!
Already Have A Website?
Does Your Website Have Enough Traffic?
Get an instant SEO audit for your website. You will learn all about your website strength and weakness along with suggestions for improvements.
Run Your Website Audit