Take a look at the Google search results. What do you see?
Countless business and service websites are vying for users' attention. Modern-day technology has made it possible for businesses to put up their best face online by buying a domain, personalizing it to suit their unique target audience, and painting just the picture they would like them to see. If you are a healthcare business that just set up a website to target patients online, kudos to you because you have already won half the battle.
But what about the stiff competition that's already raging online? When hundreds, if not thousands, of healthcare practices make tall claims about their services online, how do you stand out from them? What's more, even minor web design mistakes can cost you valuable prospects and turn them away to competitors in a single click!
With that being said, let's look at some of the mistakes to avoid when building your own website, because sometimes you have to take a step back to move 2 steps forward.
Common Website Design Mistakes You Must Avoid!
A survey by GoodFirms reveals that slow loading and non-responsive website design are the top two reasons why visitors leave a website. Bad mobile experience and annoying, misplaced popups are other common website design mistakes that can drive valuable leads away.
To help you take a more proactive approach to avoid website design mistakes, we have compiled a list of common mistakes and tips to avoid them.
#Mistake no. 1: Improper Domain Name
Not exactly a mistake (Strictly speaking), but having a domain name that is irrelevant to your niche can confuse search engine bots as well as users big time. An ill-constructed, irrelevant domain name can make it difficult for patients to relate to and, even more importantly, remember your healthcare website when they come across it. Tricky names that are even harder to spell will only make your practice's name more forgettable.
The key is to keep your domain name simple, brand-related, yet unique. Run an SEO analysis of your intended domain name or get professional help while considering one. Even though domain names don't directly affect your search engine rankings, they act as branding tools for your healthcare website, expanding its reach amongst your target patients.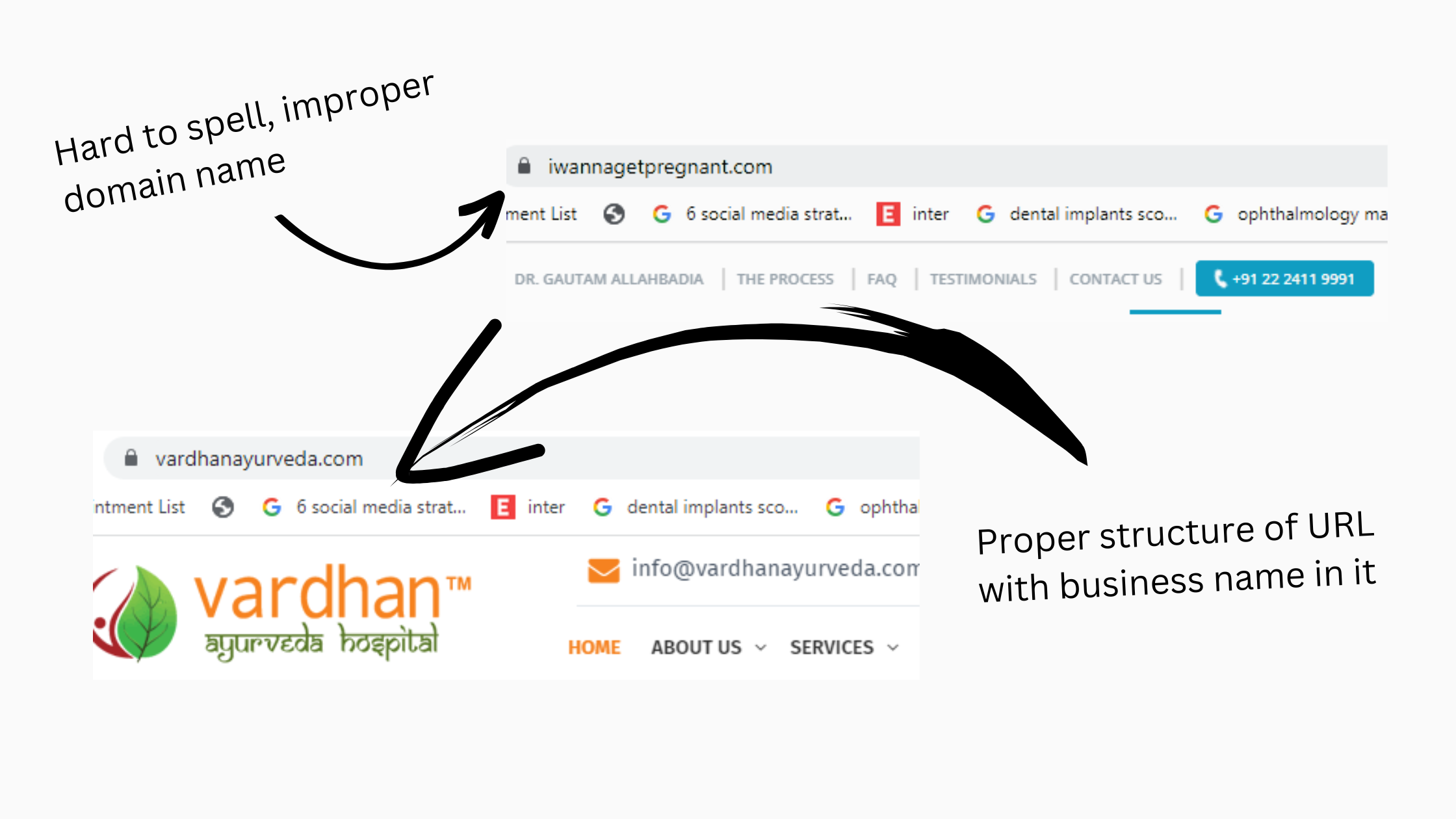 #Mistake no. 2: Choosing a Template Design over Customized Ones
When you start building out your medical website, choosing a template, ready-to-use version with a predefined structure can prove to be a fatal mistake , especially when your healthcare business is still growing. Sure, if you have a limited budget, you may choose a template web design. Nonetheless, the results will fail to etch a unique impression on the visitors. Also, as your healthcare business grows, the features provided by a template website design may not suffice.
You need a website design that would bring out the unique brand identity of your practice. Everything from the logo to the font and colors should be consistent with the brand image you want to portray to prospects. More than 80% of users only skim through the content they read online. So, you need to design your website with scannability in mind. Cut down on the number of words, use high-quality images and videos, and choose readable fonts to help visitors skim through!
#Mistake no.3: Poor Navigation
The more difficult you make it for visitors to find the information they are looking for, the more unlikely they are to stay on your website for long. 79% of people who don't find what they are looking for on a site will quickly turn to another.
As a healthcare business, your target audience is patients looking for solutions to their healthcare needs, some of which may be urgent and pressing. In such instances, you shouldn't confuse them further with poor navigation.
Here are a few pro tips to help you deliver a great user experience with flawless navigation:
Add a search bar at the top of your pages that lets users find what they are looking for in a single click. Kind of like a Google search but just for your website
Make sure that they can jump from one page to another through strategically placed menu buttons on each page.
Most importantly, label your menu items clearly and avoid jargon or creative micro-copy that could confuse the users.
#Mistake no.4: Unable to Adjust to Different Devices
Mobile devices bring in more than 58% of website traffic worldwide. Meanwhile, visitors are five times more likely to leave a site that doesn't work well on mobile. Thus, having a website that runs smoothly on desktops or laptops is not enough. Your medical website must also be optimized for mobile and other hand-held devices.
Invest in a responsive web design so your pages use the same URL across multiple devices and scale automatically to suit the display size. Optimizing images and reducing the number of redirects are other ways to prevent your mobile site from slowing down.
In the below, you can clearly see that a part of a website looks good on desktop, but when we switched on to the mobile, that same section looks odd. Simply means it is unable to adjust to the mobile devices.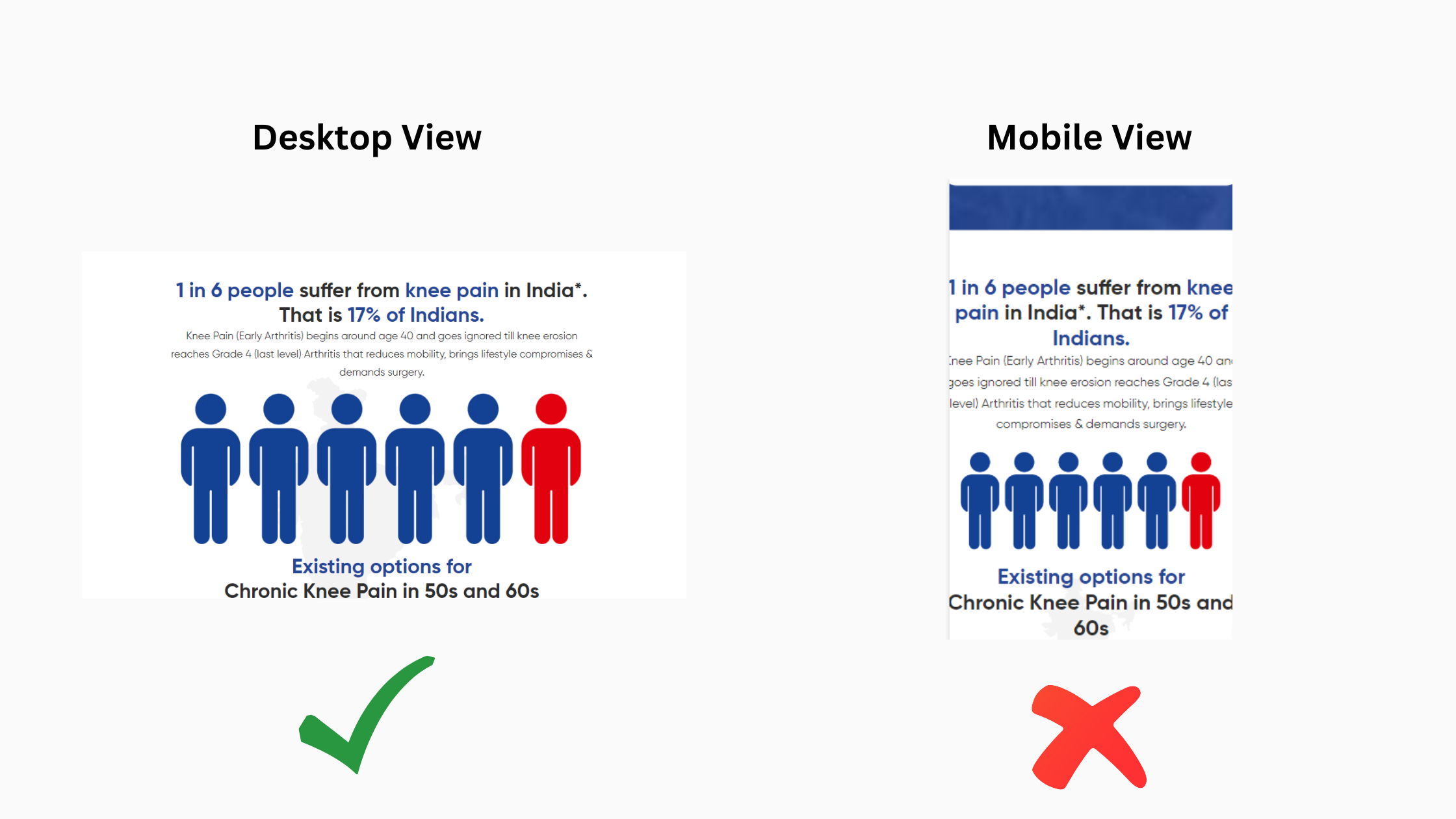 #Mistake No 5. Missing Information About the Business
Having accurate, updated information related to your healthcare practice on your medical website is key to winning the trust of prospective patients. There's already a lot going through a patient's mind while considering your practice for their healthcare needs, and leaving them with missing pieces of information will only add to their worries. Like not having an address, phone number or even email mentioned on your website might lead to distrust among them.
With that being said, here are some important details that must be clearly visible on your website, especially on the home page:
Name of the practice
Contact information and location
Contact us forms and live chat options to capture important patient details for quick follow-ups
Name of doctors and other members of staff with their bios
Information related to the practice's specialty and the kind of services offered
#Mistake no.6: Slow Loading Website
Slow-loading pages are real bummers that not only spoil the user experience but also bring a bad name to your healthcare business. You can check your page speed with Google's free tool. Ideally, your page should load within 2-3 seconds to prevent prospects from slipping off to other websites.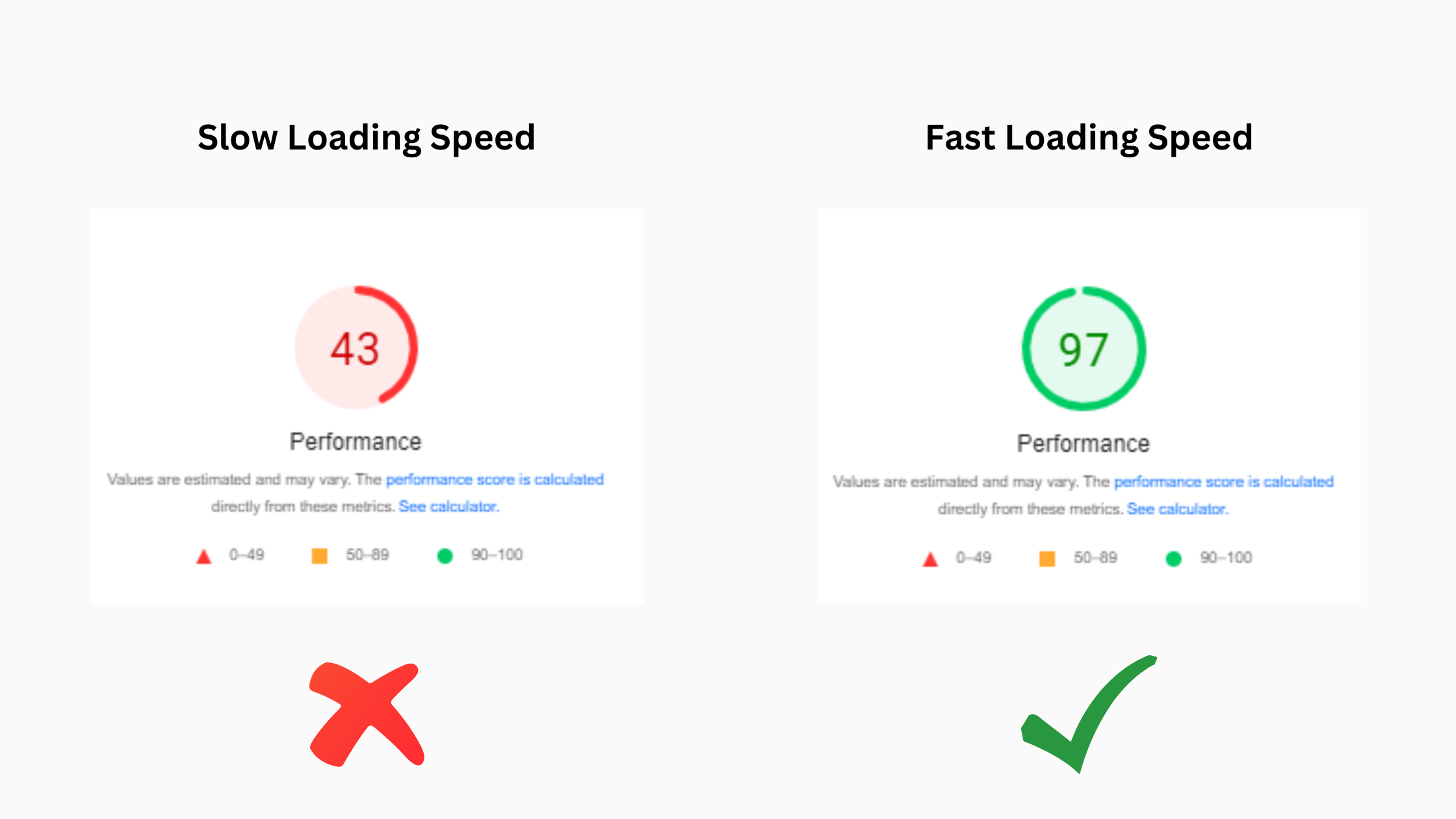 The good news is that there are multiple ways to improve your page load speed:
Choose high-performance hosting solutions that provide personalized platforms with higher speed like GoDaddy or Hostinger
Compress images to reduce their weight, so that the pages can load more quickly (There are lot of tools available online)
Eliminate unnecessary plugins that may be slowing down your site (If your site is on wordpress)
Enable browser caching (storing information such as images, JavaScript files, etc.) so it doesn't have to reload all the information every time a user visits it
#Mistake no.7: Not Properly Optimized for SEO
For your website to be found by the right patients at the right time, you need to make it search-engine friendly (SEO optimization). Awesome colors, catchy texts, and attractive designs will amount to nothing if your website is poorly optimized. It would be like a beautiful palace in the middle of a desert- with no visitors!
The higher your website ranks in organic search results, the more likely you are to get visitors to your website. A study reveals that the #1 organic results are ten times more likely to get clicked than those on #10.
If you want to know if your website is SEO friendly, you can try out our Instant Analysis tool. This will give you a full report of your website within SECONDS.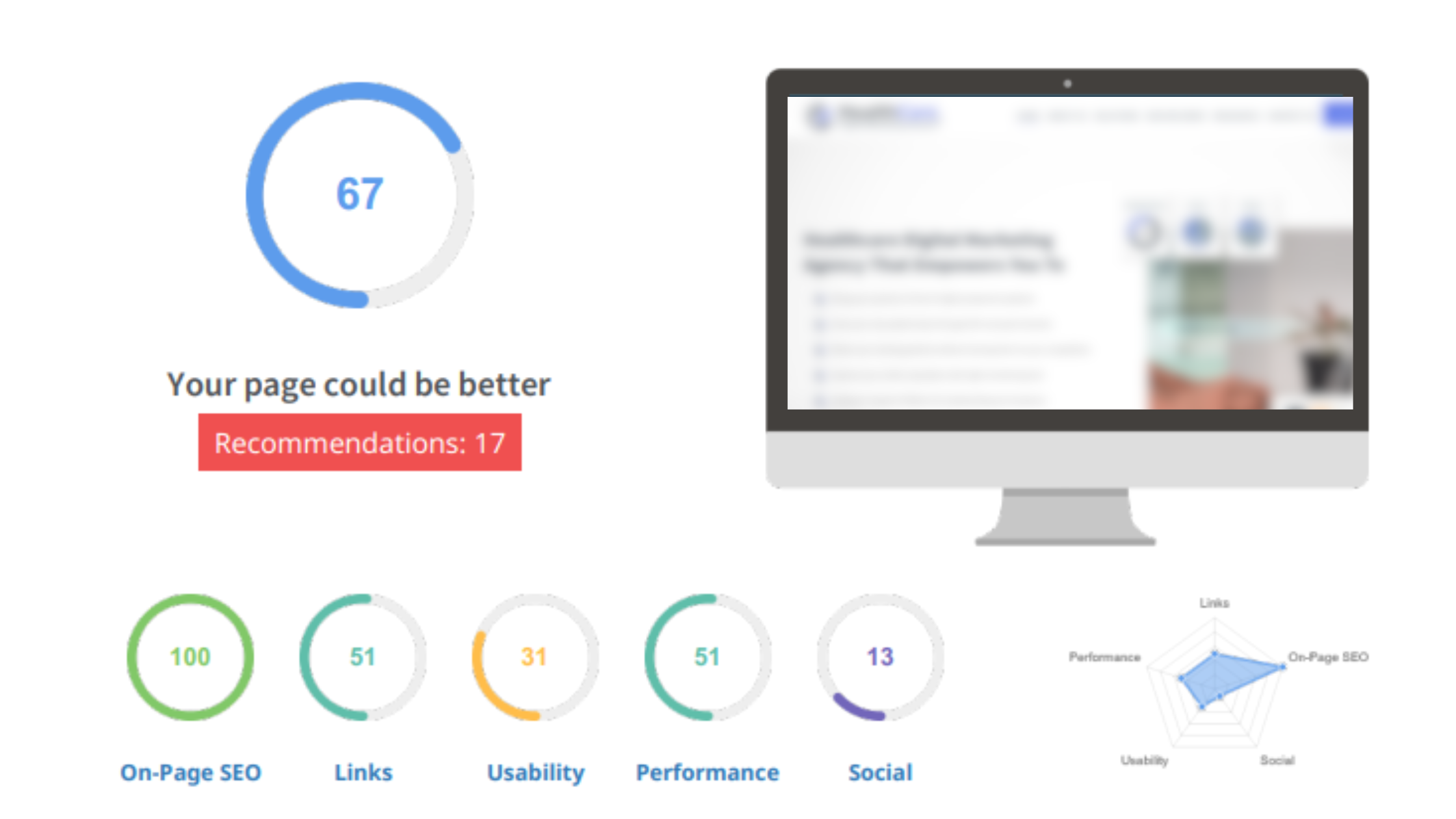 While a lot goes into making your website SEO -friendly, a few things you can easily work on include:
Your site's meta descriptions, title tags, and schema markup ( a bit too technical? Well, you can always trust the SEO experts).
The quality of content- keep it original, relevant, and 'fluff-free.'
Relevancy- make sure your website offers the solutions users are looking for. Putting in the right keywords can drastically improve your chances of being found on search engines, but make sure you don't overdo it (No keyword stuffing, please!).
Also Read: Best & Effective SEO Tips for Healthcare Practice
#Mistake no.8: Not Publishing Blogs or Having Thin Content
Blogs are a great way of showing your expertise and establishing your authority online. Often, visitors looking for health-related information online may not be immediately looking for services (awareness stage).
A well-written, informative blog can help them better contextualize their problems and seek medical help for themselves or their loved ones.
Research states that 60% of patients are more likely to trust medical resources posted by doctors. Thus, regularly posting high-quality content can help establish your brand authority and win over the trust of prospective patients, pushing them further down the marketing funnel (into consideration and final decision-making).
What's more, you can even get more referrals through content shared by patients/ prospects with their families and friends on different social media channels.
Some content ideas you may want to explore for your healthcare practice include:
Trending health conditions
Frequently asked questions related to the diagnosis or treatment of a condition, precautionary measures, etc.
Upcoming health events
Informational content specific to your specialty
Practical health tips
#Mistake no.9: No Call to Action (CTA)
From downloading ebooks to offering directions, CTAs play a key role in ensuring that the visitors take a definite action, instead of just skimming through your website. Unclear or missing CTAs can drive away valuable prospects, so you must ensure they have clear messaging and are strategically placed throughout your website.
Moreover, the language should be consistent with your brand and subtly encourage the users to take action. Colors are also integral to the effectiveness of a CTA button. So, make sure to test out several formats (A/B Testing) before settling on one. Try to keep the CTA messages as personalized as possible, as personalized CTAs tend to perform 202% better than basic ones.
#Mistake no. 10: Adding Annoying Pop-Ups on the Website
Let's face it! No one likes pop-ups, especially when searching for something as serious as medical advice or health-related information. Nonetheless, they are important because they let you capture the user's attention and, when used strategically, can even help you gather important information for future follow-ups.
So, how can you add pop-ups to your medical website without disrupting the user experience?
Avoid unnecessary entry popups that kill the visitor's experience even before they begin exploring your website.
Only display relevant and valuable content, say redirect the user to best-performing, informational content instead of annoying them with offers and discounts
Personalize the messages and test to see which ones are hurting your user experience (A/B Testing)
#Mistake no.11: No Integration of Social Media
Social media platforms are ideal places for promoting your practice online. Adding links to your social media channels on your website can direct prospective patients to your social media handles, encouraging them to get actively involved with your practice. Make sure that you website design includes 'click to share' functionality so that the visitors can easily share your content with others through their social media accounts.
Don't Let Your Website Design Mistakes Hamper Your Revenue
As a healthcare professional, you already have a lot on your mind (and hands), with a never-ending sense of duty of care. Keeping track of your website and achieving a stellar online presence may be too much to do alone, but help is always at hand. Reach out to us at Healthcare DMS web design and SEO experts who can save you from unnecessary burnout by handling your website design & development work. Our team will ensure that you are covered against potential web design mistakes and deliver an experience that attracts and retains more patients for your practice.