SEO for hospitals is the key to getting noticed by the right local patients at the right time. It is your megaphone to the online audience that not only shouts "Come, find me!" but also directs them to where you can be found with the right local seo strategy.
And the result? Everybody wins!
Remember playing hide and seek? If you were one of the hiders, you would obviously try to stay hidden for the longest time possible to win the game. The reverse is true for your healthcare practice, especially in the present digital age.
The longer your practice stays hidden online, the more valuable prospects you lose. You may be right beneath their nose physically, yet a poor online presence may make it difficult for you to be found even by local patients.
To put this in perspective, I did a quick poll on LinkedIn. According to the poll reports, more than 50% of patients turn to Google to learn about doctors or hospitals before selecting their healthcare provider rather that walking straight into one.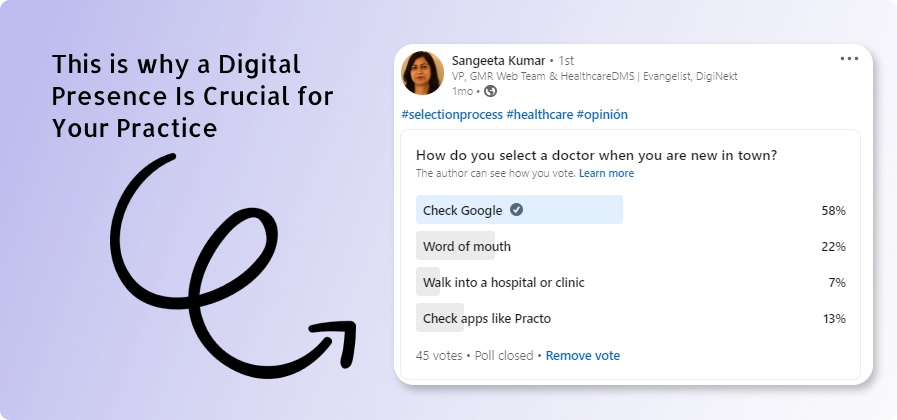 This data just shows how important a SEO strategy's hold for your hospital in building a strong digital presence. Patients are like consumers nowadays; when it comes to their health, they research every bit of info related to doctors online.
There are 100 billion searches for healthcare on Google alone each year
There are 70,000 health-related searches per minute every day
"Near me" searches for healthcare services have doubled since 2015
66% of Internet users look online for information about a specific disease or medical problem
56% of Internet users look online for information about a certain medical treatment or procedure
44% of Internet users search online for doctors or other health professionals
36% of Internet users search online for hospitals or other medical facilities
15% is the average close rate of organic search
7% of all Google searches are health-related
What SEO is Important for Healthcare Industry?
Most patients seek health care practices that are located closer to them for the sake of convenience. Local SEO for hospitals helps you bring potential patients to your hospital. The ones who are actively seeking who are actively seeking out solutions and treatments for their diseases or ailments. This can done by improving your online visibility in search engines like Google in your city or neighborhood. It involves optimizing your website to rank higher in local search results for terms like 'hospitals near me,'' thus allowing you to be found when it matters. The benefits of local SEO for hospitals and the healthcare industry are limitless and can be summarized in the following:
Brand Online Visibility

Targeted Web Traffic

More Calls & Visits from Map Users

Enhanced Credibility & Trust Among the Patients

Improved Conversion Rate
According to one data, almost 77% of patients use Google to book an appointment to their local hospital or healthcare practice and that is a big number if you think about it.
For instance, if your potential patient is looking for the "best eye surgeon in Hyderabad." If your hospital website's have a well aligned SEO strategy, it will ensure that your surgical clinic or hospital pops up in the prospect's search results, increasing your chances of being chosen over other competitors in your area. But keep in mind, the higher you rank on search engines, the more likely patients will choose you over other competitors.
Now the million dollar question, what you can do to boost your online visibility on search engines. Well! don't worry, we have you covered.
Here are 9 hospital SEO strategies to help you Bring Local Patients
1. Know What Your Patients Are Looking for
Most patients seek medical facilities/hospitals that are physically close to them to cut down on travel time and increase their level of convenience. Some seek nearby hospitals strictly due to urgency. In either case, you'll most likely get patients in your 10-15 km radius. Therefore, your main objective should be to get in front of those who are most likely to consider treatment and services closest to them or that can meet their unique needs.
Track prospects who are looking for services or medical treatment that you provide and the types of searches they are making to identify your target audience and direct them to your website. Your complete SEO strategy, from how you organize landing pages to how that information is presented on the site, should be centered around gaining a deeper understanding of the audience. Not knowing your target market can be detrimental to your practice and result in irrelevant visitors to your medical website.
One way to go about it is by consulting a healthcare SEO agency. They can help you identify your target audience more accurately and create a Patient persona, which can help you define your SEO strategies.
2. Start by Identifying the Right Keywords
Keywords are basically ideas and topics that define what your content is all about. When it comes to SEO, they are words and phrases typed by your prospective patients.
The backbone of a local SEO strategy is the keywords you use. Your SEO keywords are the terms and phrases in your web content that make it possible for you to rank on the first page and make it easier for patients to find your website via Google. By researching and selecting the right keywords and implementing the same across your website naturally and systematically, you can rank higher even for competitive keywords related to your services. Consider using terms that describe the services offered by your hospital, such as "pediatric hospital near me," "cardiology practice near me," or "minimally invasive surgery near me."

Keyword research and implementation can be time-consuming, if you don't know how to approach it. Fortunately, there are several free resources available that can help you understand all the technical jargon. You can even get help from a healthcare digital marketing agency, who can take a lot of load from your shoulders and let you focus on your practice.
3. Get a Professionally Designed Website for Your Hospital
Your website is a crucial part of your healthcare SEO strategy since it acts as the central location for patients seeking to learn more about you or just looking for treatment. Your medical website must reflect professionalism, expertise, and consideration for your patients and will play a key role in shaping prospective patients' perception of your practice.
It's also essential to make your website SEO friendly since it can help search engine crawlers to crawl and index each page on your website efficiently and index it in their database. And without having your hospital website index, you cannot expect it to appear in searches no matter how much SEO-optimized content you throw in it. You need a website that is both appealing to the eye and simple to navigate.
A well-designed, SEO-optimized website should have:
The telephone number and business hours of the hospital. It must be prominently displayed and can usually be found in the header, footer, "Contact Us" subpage, or both.
The hospital's logo, colors, and layout should be incorporated into each page of the website.
The website should have visual elements (pictures, graphics, and videos) to break up long blocks of text and make the information more engaging.
As most people look for hospitals on their mobile devices, ensure that your website has a responsive design that instantly adjusts to different interfaces.
Have a responsive design which means your website should adjust to mobile screen effortlessly.
4. Create and Publish Informative Healthcare Content
As I already talked above about the importance of keywords and understanding your potential patients. Both of these aspects are the keys to create content that is really helpful to users and attract organic traffic from search engines. It begins with understanding what prospective patients are looking for, getting to the heart of their issues, and helping them with appropriate solutions.
To establish your credibility as the best healthcare practitioner, you should publish reliable health-related information that local patients are searching for online. The content presented should be unique, pertinent, and keyword-optimized. In addition to being resourceful, the content must be well-written and formatted so that people can comprehend the information easily. Publish at least five to 10 pieces per month (depending on your marketing strategy), and you'll start seeing traffic flood to your website in no time.
But, if you have been wondering - How can I write content for my website when I don't have the time? Don't worry. There are plenty of options for your help. For instance, you can go to platforms like Fiverr and Upwork and hire a freelancer to outsource content writing or hire a content marketing agency that can help you take loads of work off your shoulder.
Here are some examples of reliable healthcare content that will genuinely help your patients:
A feature article on a new physician joining the hospital staff or the opening of a new department
Information about a local event the hospital is hosting or attending (wellness fair, flu shot event, fundraiser, etc.)
A feature piece about a breakthrough medical procedure or technology used in your hospital
Informative videos about tracking one's health journey during the summer
Insights on treatments & procedures you provide within your hospital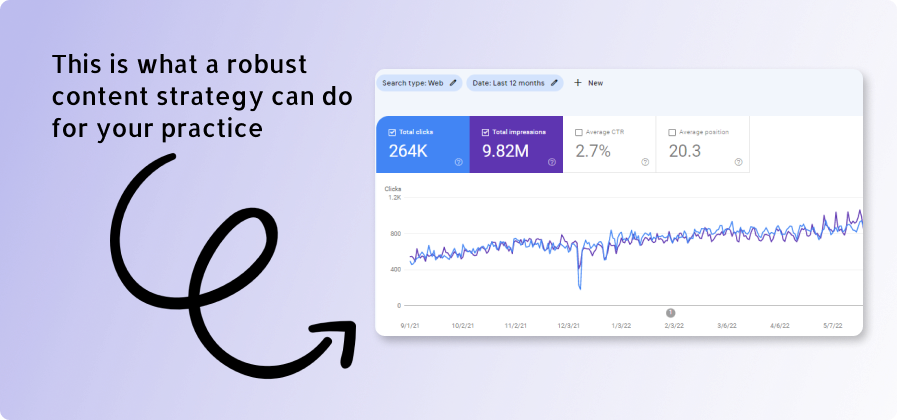 5. Keep the Local Listing up to Date
As a local hospital, your information should be published on numerous local listing websites and directories. To make sure that everyone is receiving the same accurate information about your hospital, it is crucial that you manage your local listings. Always double-check your listings to ensure that the information given about your hospital is accurate. It is important to verify the following first and foremost:
Name
Contact information
Hours of operation
Location
Services
Take prompt action to amend any inaccurate information you discover on any platform or directory where your medical information is published. You must keep your listings consistent so that patients have accurate information about your practice.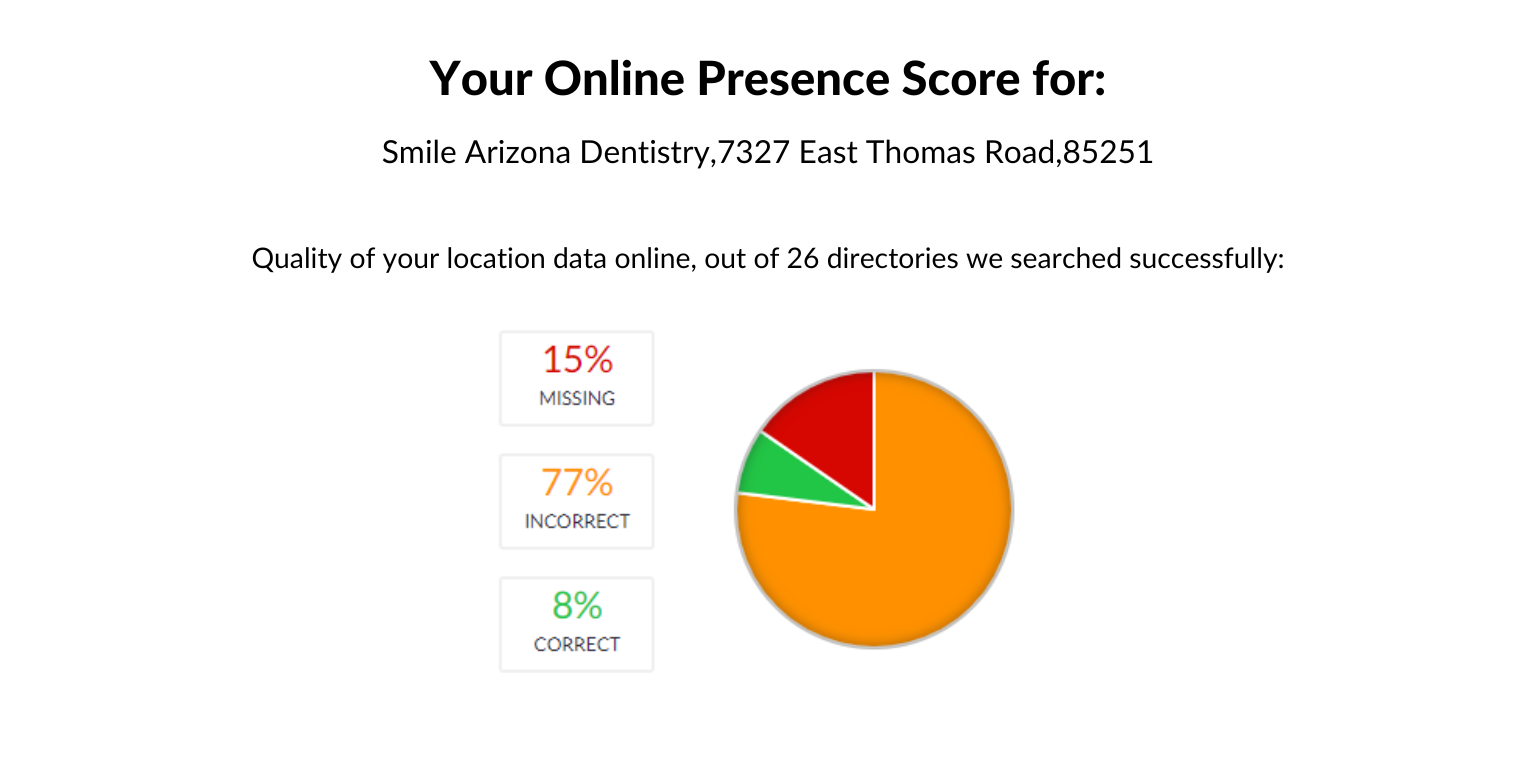 6. Leverage Patient Reviews for a Stellar Online Reputation
Patients frequently use Google and other search engines to find the information they need or want before seeking out a healthcare professional/hospital. A large part of this search involves reading patient reviews online and evaluating healthcare practitioners. Reviews can build your hospital's trustworthiness in your community and help patients understand how you handle negative feedback.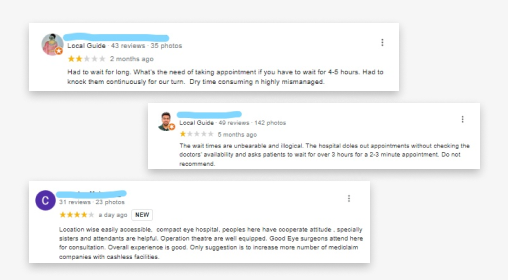 Ask patients to rate their experience at your practice and encourage them to leave feedback on your Google Business Profile(more on this later) or other local listings. A proprietary review management tool can be a lifesaver when handling data from multiple listings, including practo, Google Business Profile and Facebook (Yes, Even Facebook).
Your prompt reply to a review says a lot about the kind of hospital you run and could positively influence potential patients. If the review is favorable, express gratitude and thank the person for taking the time to do so. If it's a negative review, express regret for the patient's unsatisfactory experience and get in touch with them to understand their concerns and make things right.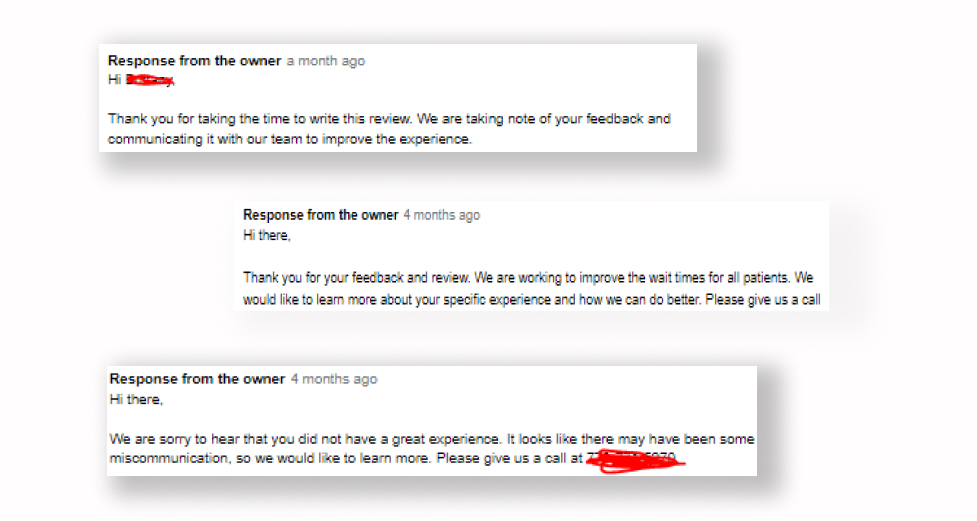 In essence the more positive review you have the more it is likely for your prospective patients to choose you.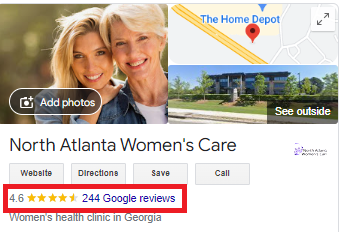 7. Keep a Close Eye on Your Competitors
A great way to improve your Hospital SEO results is to look at what your local competitors are doing. Knowing your competitors' keyword rankings can help determine if it will be easy or difficult to outrank them in search results. Look at who is linking to them, the keywords they are using, and the platforms where they are posting their content.
Pro TIP: One way to approach this is to concentrate on competitors who are located in the same area, provide similar services and are of a similar size.
8. Claim Your Google Business Profile
Getting your Google Business Profile (formerly known as Google My Business) claimed and optimized is an excellent place to start when it comes to local SEO. And the best part about Google Business Profile is that "IT IS FREE." You don't have to spend a rupee to get your business listed on Google and get quality leads. Even if you don't have a website or don't have the funds to create one, you can easily create a Google Business Profile.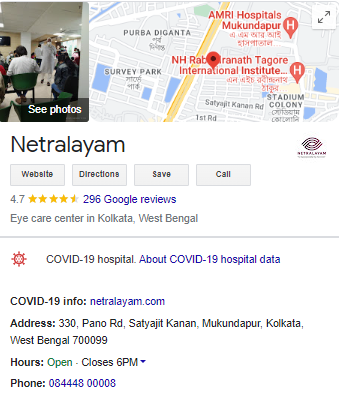 Additionally, your hospital is more likely to show up in the "Google Local Pack," which is the box that appears at the top of a local Google search. Setting up a profile is definitely a quick win because 5% of Google Business Profile views result in a website visit, phone call, or request for directions.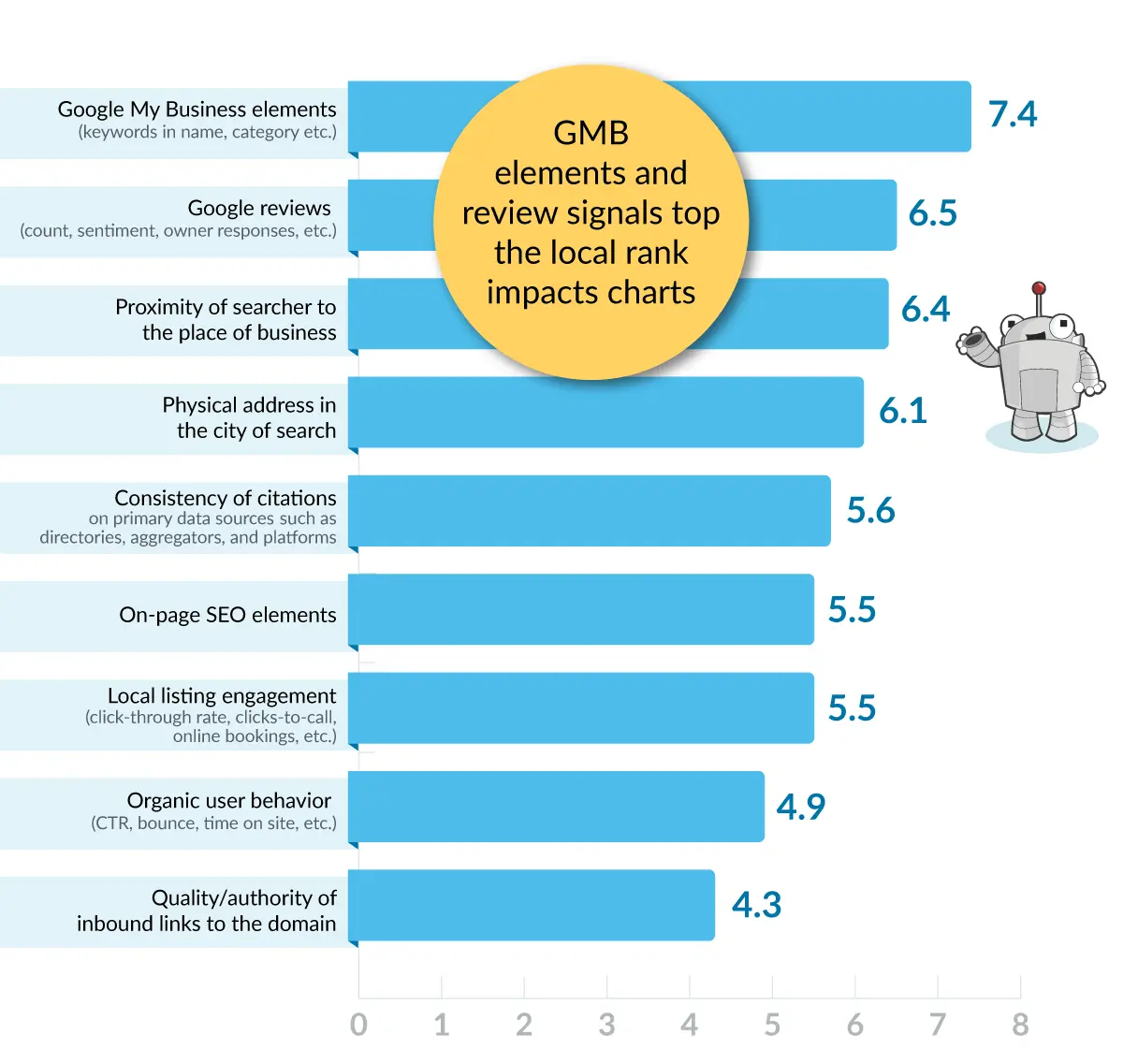 9. Track Your Hospital SEO Efforts
If you don't keep tabs on your hospital SEO campaigns, all the aforementioned efforts will have been for nothing. You need to constantly monitor your online visibility and search engine rankings and improve them as and when needed.
Here are a few metrics to look out for:
Organic Traffic
Search Rankings
Search Visibility
Links
Organic CTR
Bounce Rate
Average Session Duration
What Happens If You Stop Doing SEO for Your Hospitals?
At Healthcare DMS, we often tell our clients that SEO for hospitals is a marathon, not a sprint, and the strategies will take a reasonable amount of time to deliver the desired results. Nonetheless, in many cases, people are tempted to quit SEO for their hospital website. So, what happens if you stop midway?
Let us break it down for you.
If you quit SEO, your website performance will drop and your competitors will start gaining traction on Google search results for the keywords for which you were once ranking, and eventually, new users won't be able to find your website. By not posting SEO-optimized content on your website regularly, you will miss out on the opportunities to rank for new keywords. It might also affect your loyal patient base, who may start feeling frustrated and disengaged with your hospital brand due to your lack of new insights. On top of that, your website may encounter technical issues, making it difficult for search engines to index your site.
Need Help Winning Over Local Patients? Seek Our Hospital SEO Services
When you play (we mean partner) with us, we help you win each time by amplifying your hospital SEO efforts and directing valuable prospects to your practice. Our expert SEO professionals with years of experience and know-how, powered by cutting-edge technology, are here to help you stand out amongst a sea of competitors vying for your prospect's attention. So that you can concentrate on more important things "Taking care of your patients"