Acquiring and retaining new patients is perhaps the greatest pain point for doctors in the present-day competitive healthcare market. Gone are the days when doctors could rely on just word-of-mouth referrals to attract more patients to their practice. (Of course, they do even now!) The rapid changes in the Indian healthcare space triggered by the 'Digital India' initiative have made it even more difficult to stand out in the sea of competitors providing similar services. Prospective patients can now easily access a cornucopia of sources to learn all they need to know about your practice before choosing you for their healthcare needs.
Digital marketing for doctors in india is a cost-effective way to create and maintain a stellar online presence and boost your brand reputation to attract and retain more patients.
Some other ways in which online marketing for doctors can benefit your practice include:
The abundance of online channels and social media platforms in india allows you to target audiences best fitted to your practice

You can easily interact and engage with your patients on an ongoing basis, addressing grievances and ensuring prompt redressal before their negative reviews affect your practice's reputation

You can also establish yourself as a thought leader by regularly posting relevant content to your website or social media handles to increase patient awareness about your practice
Read Similar Article: Importance of Hospital Marketing That You Cannot Deny! (With Case Study Data)
Digital Marketing Tips for Doctors in India for Better Patient Acquisition
Don't treat digital marketing as an expense but rather an investment.
Digital marketing in healthcare is a very complicated affair involving a high level of planning and strategic approach. (Which you will see below) So don't think of it as an unnecessary expense in your pocket. For every penny you invest in it, you can get ten fold a return.
1. Take Your Practice Online
In the present digital era, your medical website is often the first impression your patients will have of you. It is critical to have a user-friendly website with clear messaging that helps your patients navigate your services easily. A user-centric healthcare website will save patients time and effort, simplify their search and selection process and provide valuable features like booking an appointment, downloading reports, 24/7 support through chatbots, etc.
In essence, a well-structured website not only ensures a seamless patient engagement but also goes a long way in building a solid patient-doctor relationship based on trust and continuous support.
Don't know where to start? You can consult web design companies about such a patient-centric solution and get a head start on your competitors
2. Provide Patients With High Value Content Through Your Blog
Blogging is a very effective tool when it comes to brand positioning for doctors and physicians. By writing and posting blog content on a regular basis, you can bridge the gap between you and your patients while providing meaningful information. Make sure to write on topics that are related to your practice.
Below is the data extracted from Google search console in which you can clearly see how we used strategic blogging to enhance the overall reach and brand exposure of one of our clients in just 12 months, establishing it as an authority and Thought Leader (More on this, in the section below).

Pro TIP: You can share a recent update reagrding your practice or new insights into the latest treatment options or just couple of home remedies to educate your patients while encouraging them to share your post for wider reach.
3. Use WhatsApp to Engage Patients
As the most popular global mobile messenger app, WhatsApp can play a crucial role in helping you engage with your patients on a more personal level, right when they need it the most. From appointment reminders to 24/7 patient support, you can employ WhatsApp chatbots to reach out to more patients simultaneously.
The ease of use offered by WhatsApp is the foremost reason why many healthcare practices and hospitals use the AI-powered platform.
To schedule appointments for consultations and checkup
To send test results and reports, saving the patients from physically collecting them
To deliver daily health-related tips and instant notifications for exercising, maintaining a balanced diet, etc.
4. Be Active on Social Media
Never underestimate the power of social media in creating a good impression on prospective patients and getting more online recommendations. Social media platforms like Facebook, Instagram, and Twitter make it easier for doctors to share updates with their patients and stay connected anywhere, at any time. Here are a few social media marketing strategies you may want to implement for your practice-
Conduct free webinars or answer health-related queries in real-time

Respond to patient grievances through Facebook's online groups and discussion boards

Target the right audience on different social media channels based on their distinct demographics and interests

Employ social media marketing experts who can help promote your practice on different social media channels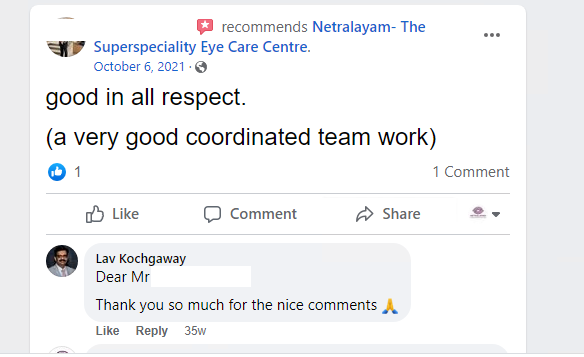 5. Tell Compelling Patient Stories
Sharing patient stories and testimonials will not only motivate others experiencing similar health issues but will also establish you as a credible healthcare practice that is genuinely invested in its patient's wellbeing. You can even have a dedicated web page displaying patient stories as shared by them, their family, or your staff.
As you can see from the image below that how one of the leading hospitals using their patient stories to reach thousands of more users and engage them on personal level.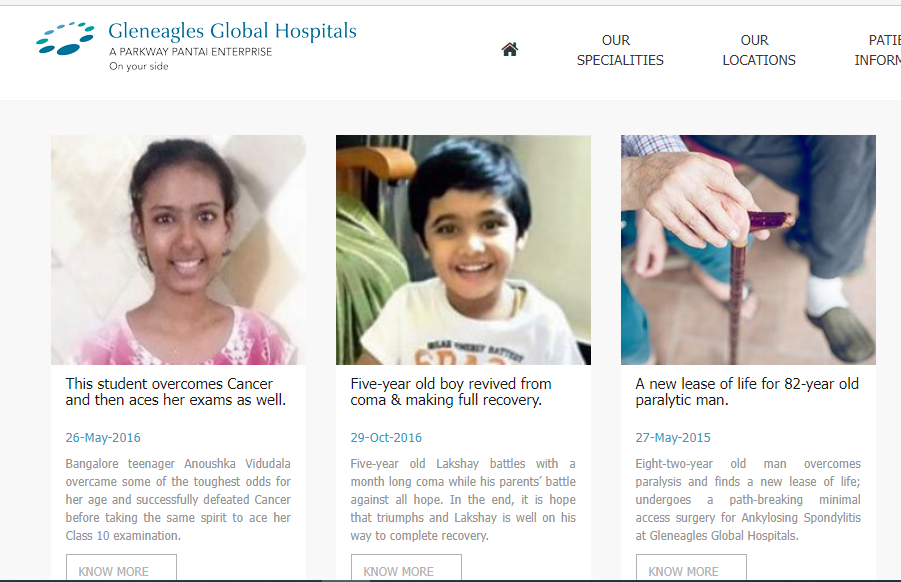 The idea is to connect your practice and prospective patients seeking doctors who can treat them with a human touch. By sharing patient experiences that clearly elucidate how you went the extra mile to provide personalized care for their unique needs, you can effortlessly attract new patients to your clinic.
6. Invest in Paid Search Advertising
Perhaps the easiest way to gain instant visibility, carefully planned and well-executed paid ad campaigns can help your practice stand out among a sea of competitors. What more, you can target the best fit for your practice by ensuring that your ads are visible to the right audience at the right time.
Below you can see an example of paid ads campaign for a gynecology practice in Hyderabad for the highlighted search term.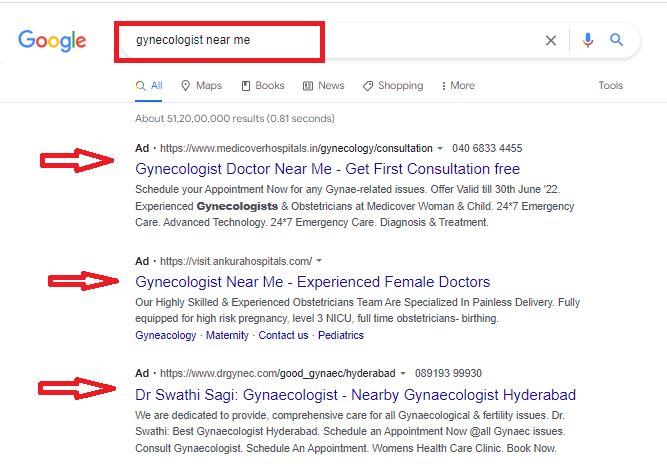 Platforms like Facebook and LinkedIn allow you to run paid ad campaigns centered around terminologies and search terms that new prospects might use while searching for your practice. You can even adjust these campaigns to suit your budget, thus saving thousands from being spent on futile marketing.
7. Get Listed on Local Listing Directories
Your practice must be listed on local directories like Justdial, Sulekha, etc., and on medical directories like Practo, HealthGrades, DoctorsDig.com, and BookofDoctors to be easily found by prospective patients. However, it is not just enough to be listed. You need to provide complete and accurate information a bout your medical practice, no matter which online directory you use.
Accurate directory listings will also ensure greater visibility across the web as Google's bots search through every bit of data related to your practice available online to establish consistency and credibility.
8. Become a Thought Leader
Establishing yourself as a thought leader in healthcare is vital for boosting your online reputation. You need to set yourself as the authority in your area of specialization by offering intelligent insights and valuable guidance to peers.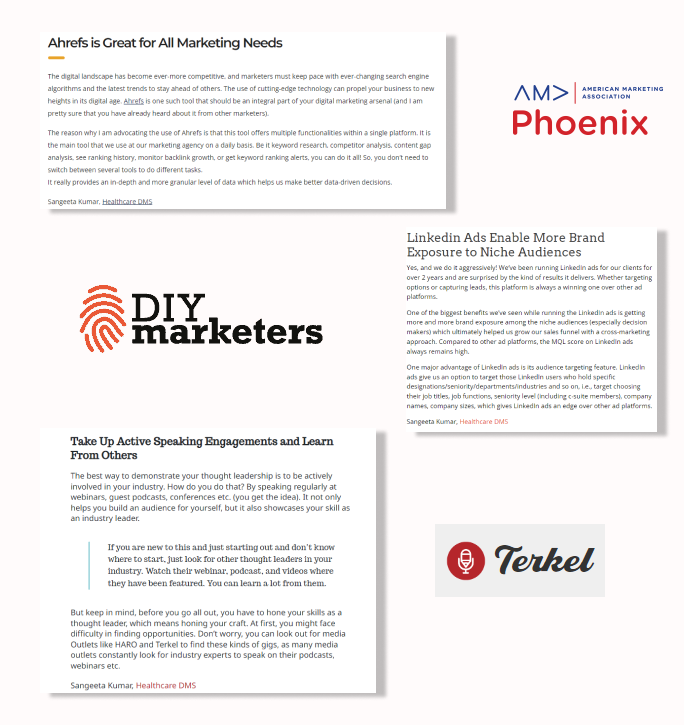 As you can see in the image above that we have been featured in tons of articles by authorative websites. This not only helps us build a name around our brand but it also portrays us an authority and thought leader in our respective field.
Pro Tip: Similarly, you can also reach out to media outlets related to healthcare and answer query asked by them. One way to approach this is to create a profile on media outlets like HARO and Terkel, which presents lot of oppurtunities for thought leaders as well as professionals to get the word out there.
By staying updated on the latest trends and healthcare technologies and sharing well-informed opinions based on your experience, you can attract patients looking for patient-centric practices.
Get Found by the Right Patients with Healthcare DMS
At Healthcare DMS, our team of healthcare digital marketing experts can help you save time and effort while creating customized strategies targeting patients best fitted to your practice. With us by your side, you don't have to worry about keeping track of your website or monitoring your paid ad campaigns, for we will do it for you! Our proprietary tools and convenient processes will boost your web presence, build a stellar brand reputation and help you acquire and retain more patients. Contact us today to learn more about medical marketing for doctors.